State Capitol Gift Shop
The State Capitol Gift Shop is located on the first floor of the Capitol. Offering Arkansas and Arkansas made products, the Gift Shop is open Monday thru Friday from 9:00 am until 4:00 pm. For more information call 501-682-3593.
Click here to follow the Arkansas Capitol Gift Shop on Facebook.
2021 Capitol Christmas Ornament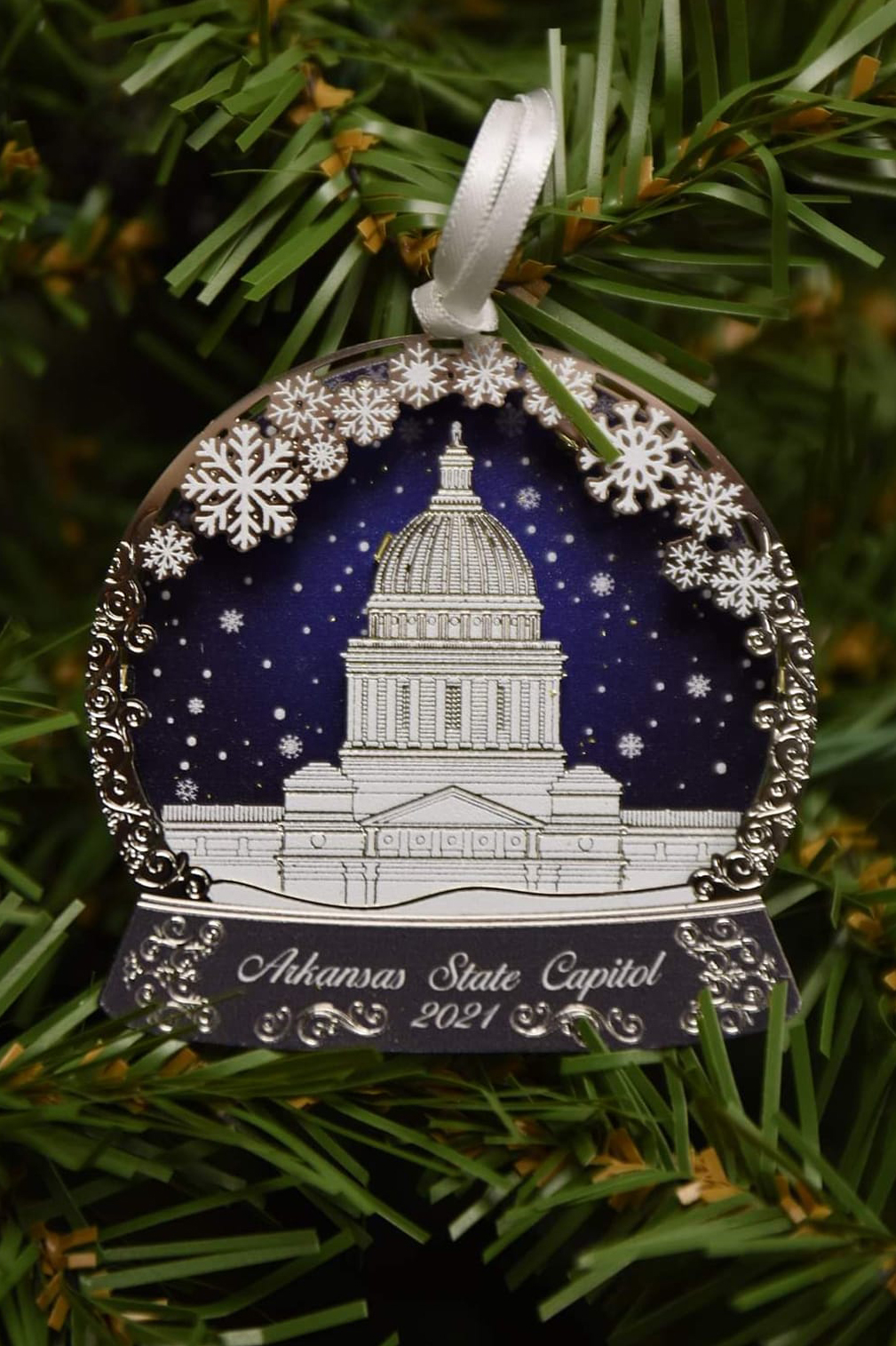 The theme chosen for this year's Arkansas State Capitol Christmas ornament depicts a snow globe containing snowflakes falling around the Capitol Building as snow drifs up to the bronze doors on the front of building.
This year's selection of the Arkansas State Capitol Building and grounds depicts the snow that Arkansas received from February 14th to February 17th, 2021.
Dubbed by the media as "snowmageddon", Arkansans received record-breaking amounts of snow. As it turns out, Arkansas received the most snow in one month since weather records have been kept.
In February 2021, central Arkansas received a record 20.3 inches of snow surpassing the 100-year record for the most snowfall which took place in January 1918.
The snowiest single day was February 17th, 2021 with 11.8 inches of snow. On February 16th, 2021, 90% of Arkansas had a low temperature at or below 0°F.
While the ornament design is an exaggeration of the record snowfall, it certainly must have felt accurate to the millions of residents and visitors in the state. Typically, Arkansas only receives an average snowfall of four inches a year.
The official Arkansas State Capitol Christmas ornament began in 2004 and the design was chosen by the Arkansas Secretary of State's office. Secretary of State John Thurston is honored to continue this tradition and wishes everyone a Merry Christmas.
(Ornaments from previous years available as well)
---