Apostille / Certification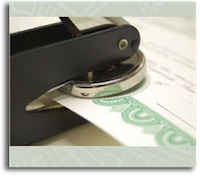 NOTICE:
All apostille/certification applications are running 7-10 business days to process, as of May 2023.
Business and Commercial Services (BCS) facilitates the use of State Documents in Foreign Countries.
To facilitate the acceptance of these documents they must be authenticated or certified in some way. The Arkansas Secretary of State provides this service. Apostille and authentication certificates can be added to documents to verify their authenticity and add to their validity as legal documents. For more information about apostilles or certifications for elected officials please contact our Elections Department at 501-682-5070 or BCS at 501‐682‐3409.
List of Countries in Hague Convention
Documents to be used in a country that is a party of the Hague Convention must request the apostille from the Secretary of State where the document was executed. This apostille certification then eliminates the need to send the document to the US Department of State. Once an individual receives an apostille on a document and the document is going to be used in the Hague Convention country, the document is ready for that country.
View list of the countries / territories which are a party to the Convention HERE
---