Wireless Access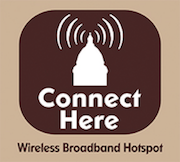 The Arkansas Secretary of State's office is excited to encourage visitors to utilize the wireless network at the Arkansas State Capitol. The wireless network is available in various areas around the Arkansas State Capitol and grounds. Public wireless coverage is currently available on:
The first and second floors of the Rotunda
The entire south side of the Capitol building from the first floor Senate meeting rooms to the fourth floor
The lower level in the 500 Grill (Capitol cafe) and Election offices
The first floor of the Capitol Hill building
For more information, you can contact the Arkansas Secretary of State's Information Technology Department at 501-682-3411.
Look for "Capitol Public Access" on your device's wireless network list.
---