How Did Arkansas Get its Name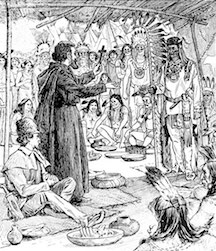 Jacques Marquette, addressing the Quapaw Indians in Arkansas in June 1673, while fellow explorer Louis Joliet looks on; taken from John Hugh Reynolds's Makers of Arkansas History. Courtesy of Special Collections, University of Arkansas Libraries, Fayetteville, and the Encyclopedia of Arkansas
***
Many names of places in our state came from the languages of the explorers who discovered and lived in Arkansas. The Native Americans, Spanish, French and Americans all helped name places in our state. The word "Arkansas" came from the Quapaw Indians, by way of early French explorers.
At the time of the early French exploration, a tribe of Indians, the Quapaws, lived West of the Mississippi and north of the Arkansas River. The Quapaws, or OO-GAQ-Pa, were also known as the "people who live downstream," or UGAKHOPAG. The Algonkian-speaking Indians of the Ohio Valley called them the Arkansas, or "south wind".
The state's name has been spelled several ways throughout history. In Marquette and Joliet's Journal of 1673, the Indian name is spelled AKANSEA. In LaSalle's map a few years later, it's spelled ACANSA. A map based on the journey of La Harpe in 1718-1722 refers to the river as the ARKANSAS and to the Indians as LES AKANSAS. In about 1811, Captain Zebulon Pike, a noted explorer, spelled it ARKANSAW.
During the early days of statehood, Arkansas' two U.S. Senators were divided on the spelling and pronunciation. One was always introduced as the senator from "ARkanSAW" and the other as the senator from "Ar-KANSAS". In 1881, the state's General Assembly passed resolution 1-4-105 declaring that the state's name should be spelled "Arkansas" but pronounced "Arkansaw".
The pronunciation preserves the memory of the Indians who were the original inhabitants of our state, while the spelling clearly dictates the nationality of French adventurers who first explored this area.
---